How to build an outdoor sauna?
author: Janny
2022-01-06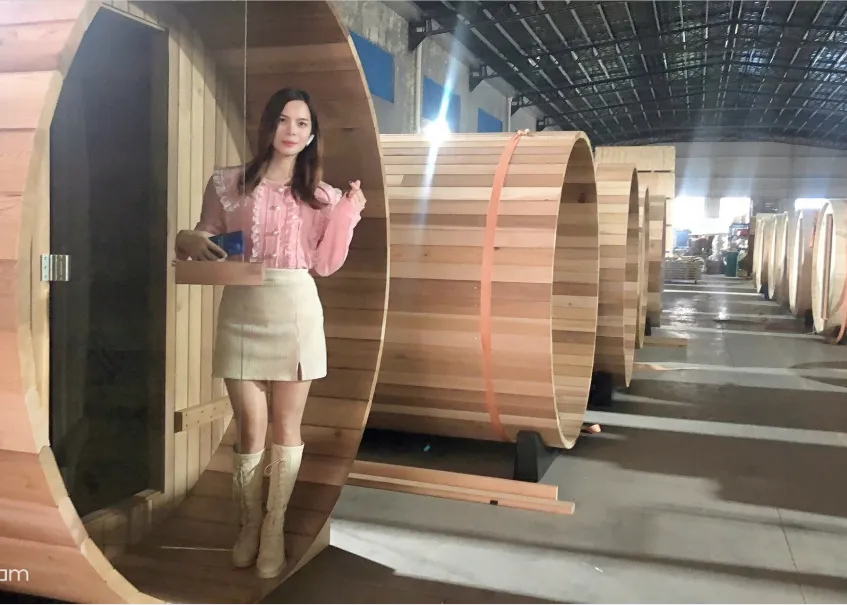 The saunas are more and more popular in the world and there are launch of different sauna products in the market for optional.It's considerably easier to buy a pre-assembled outdoor sauna kit than to design and build one from scratch.
If you choose to build your own outdoor sauna, here are some things to consider.
1.Foundation 
Wherever you choose to build your outdoor sauna, the ground needs to be fairly flat and level in order to successfully complete the job. You also need to make sure there is enough space for the foundation and base.
Outdoor saunas reach temperatures of 150 degrees or more. In order to build your sauna, you will need a material that is flexible and not easily damaged by moisture or warped by the heat. That is where wood comes in.
A sauna's traditional look and feel isn't just a stylistic choice. Wood remains relatively cool at high temperatures and is durable when well maintained. Plus, the wood interior of a sauna absorbs steam, stores heat, and releases soothing aromatics. 
Most people build outdoor saunas out of cedar. Cedar is stable and resists warping under heat and humidity changes. It also has a low density making it a good insulator – quick to heat up and quick to cool down. This also makes the wood more comfortable to sit on and against. Cedar planks are not only naturally appealing, but they also give off a nice aroma. They're anti-bacterial and anti-fungal, making them ideal for the moisture-filled environment of the outdoor saunas.
Clearly, you need a source of heat for your outdoor sauna, or it wouldn't be a sauna. A sauna uses a small stove or heater that can either be electric, gas, or wood-burning.
The stove heats a pile of rocks (specifically chosen to withstand high temperatures without cracking and exploding) that absorb and continue to emit the heat throughout the interior of the sauna. 
Construction Process
Depending on the type and style of outdoor sauna you are constructing, you will need to plan for various different things. These may include:
Windows
You may want to install at least one window, especially if you have a beautiful view to look at while enjoying your outdoor sauna. This will also allow natural light into the sauna.
Door
Pro tip: hang the door so it swings out for more room inside. Many people choose the tempered glass door because tempered glass performs better in environments with high temperatures and high moisture levels.
Air vents
No matter which of the heater options you pick, you'll need air vents.
Benches
Where do you want the benches placed? How long should they be? If you're planning to build an outdoor sauna for the whole family to enjoy, make sure to have enough room on the benches.
Lighting and switches
Where will they be installed? Tip: always hire a licensed electrician to complete any wiring. Modern outdoor saunas even have an FM radio and an LCD control panel for easier use.
Ceiling height
The ceiling height should be between 6'6" and 7' as heat rises and you don't need a lot of head space. You may even want to pitch your roof so it slopes lower by the heater.
Cold water source
Another thing to consider when building your outdoor sauna is a cold water source. If you have access to a lake or pond that you can plunge into during or after sauna sessions, then you are good to go. Otherwise, think about installing an outdoor shower nearby or having a water bucket or tub of cold water at the ready outside the sauna building.